The Annual Gettysburg Optimist Oyster and Shrimp Feed is upon us.  As in the past, members will be asked to roll up their sleeves, slip on their gloves, man their favorite tool and prepare to shuck, pad, steam and fry.  This is a last call for members to tune-in and turn out and prepare for the onslaught of hungry oyster and shrimp eaters that will be charging the buffet line this Saturday, March 8, beginning at noon.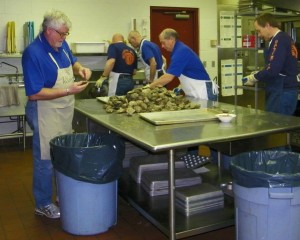 As is always the case, effectively meeting the challenge depends most upon our preparation, so all members are encouraged to show up on Friday evening at 6:30 pm for the 2014 annual oyster pad-off.  Project leaders Wayne Hill and Stacey Green will be providing the inspiration and an adequate supply of bandages for eager participants.  Plenty of pork barbeque sandwiches will be available to those who attend Friday's preparation party.
Members are reminded to report for duty at 10:00 am on Saturday for pre-event preparations.  The public feeding frenzy will commence at Noon and will be served through 3:00 pm.
Please bring a desert!  Spouses, kids, grand kids, significant others, friends and volunteers are invited to help out.
If you have not yet heard, this years Event has returned to the Gettysburg Fire Hall located on Stratton Street in Gettysburg.