The Optimist Club of Gettysburg is sponsoring the All Star Magic Show on Friday December 13, 2013.  For more than 25 years the Gettysburg Optimist have sponsored the event with the funds going to support more than 19 Optimist, youth related programs conducted throughout the year.  Magic Show Chairman, Doug Miller has once again  planned an evening that the attending youth and their parents will not forget.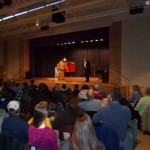 Complimentary youth tickets are being distributed to Optimist supporters and area organizations.  Hundreds of free tickets are available to area youth and $6.00 adult tickets will be available at the door the evening of the performance.
The All Star Magic Show will be held at the Lincoln Elementary School on Lefever Street in Gettysburg.  The show will begin at 7:00 pm and will conclude with one boy and one girl being presented a brand new bike.  Come on out and enjoy the show.